Hygienic protective film for keyboard - TPU plastic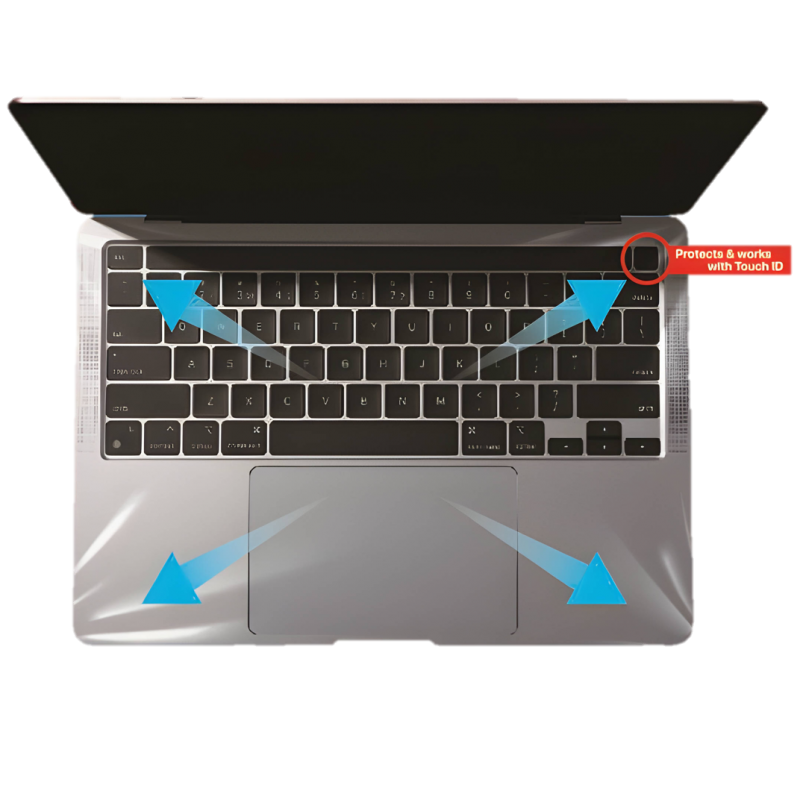  
Protective film of any keyboard or laptop - TPU plastic.
Does not contain Latex
Contains 10 pcs
100% safe – no active mechanism or presence of harmful substance inside.
AMBX has successfully proven to be 99,9% more hygienic and effective against bacteria
Following the standards of ISO 22196, JIS Z2801, ISO 20743, and ASTM E2149.
Biofilm prevents the attachment, growth, and communication of microorganisms, leading to the prevention of biofilm formation and buildup.
Full coverage of all keys, touch controls, and sensors
Flexible and stretchy design for perfect compatibility
Waterproof for easy cleaning or disinfection
For medical, dental, manufacturing, food service and home/office use
Custom sizing and printing – call us
Slidstærkt elastisk film til tastatur eller bærbar pc. Benyttes f.eks. på hospitaler, hvor coveret skiftes efter hver operation og derved letter rengøring. Kan også benyttes i laboratorier og andre miljøer, hvor hygiejnen skal være i top. Lavet af holdbart og fleksibelt TPU (Thermo Plastic Polyurethane) der selvfølgelig er RoHS-godkendt. Materialet indeholder IKKE latex, hvorfor det kan anvendes af allergikere. Trækkes hurtigt over tastaturet med 2 fastgøringsstropper
Dimensioner

520 mm (L)

Tykkelse

0,025 mm
3 other products in the same category:
Product code: KEY-COVER-U
Physically in stock
Protective film of any keyboard or laptop - TPU plastic.
Contains 10 pcs
100% safe – no active mechanism or presence of harmful substance inside.
AMBX has successfully proven to be 99,9% more hygienic and effective against bacteria
Following the standards of ISO 22196, JIS Z2801, ISO 20743, and ASTM E2149.
Biofilm prevents the attachment, growth, and communication of microorganisms, leading to the prevention of biofilm formation and buildup.
Full coverage of all keys, touch controls, and sensors
Flexible and stretchy design for perfect compatibility
Waterproof for easy cleaning or disinfection
For medical, dental, manufacturing, food service and home/office use
Custom sizing and printing – call us
Product code: KEY-COVER-NL
Physically in stock
The protective film for keyboard on the laptop, 15 "(screen size)
Does not contain latex.
Product code: KEY-COVER-N
Physically in stock