1 ch 4 - 20mA power logs. Wireless to collectsor up to 150m, external term block. Bluetooth IP64. Battery operation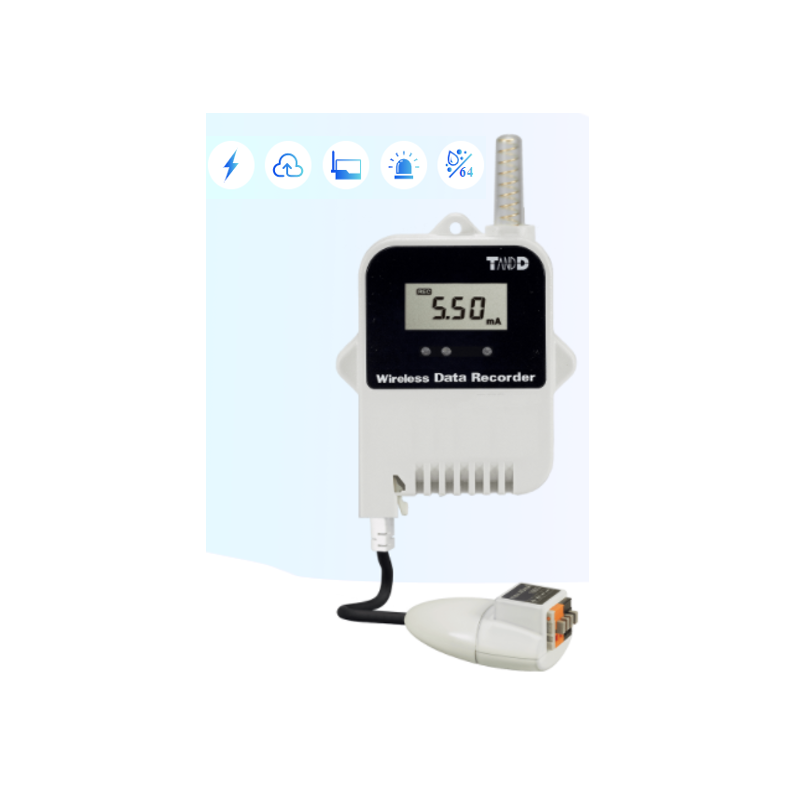  
Wireless Temperature Logger with memory
Med Bluetooth. T&D THermo APP
Sending measurement data to Data Collector (Base Station) at 870MHz
Distance between Data Logger and Data collector up to 150 meters
Battery operation up to 10 months at an upload per day
16,000 measurements in memory with the date and time stamp
Accuracy of measurement: 0.05mA + 3% at a measuring range from 10 to 40 ° C
Removable external terminal block. Close O-ring
Free Cloud service: TD WebStorage for Data Collector
LCD display shows current measurements
PC software: tools and presentation included
Data Logger setup with Data Collector Optical
Dimensions: 62 x 47 x 19 mm
Battery type: LS14250 x 1
LOG WL505MA series allows you to mix and match a variety of wireless radio communications Loggers with various base units or data collectors to meet your needs. Logged data can be sent automatically via the network or mobile communications to be stored in the cloud storage or to a specific location.
LOG WL505MA can measure and record analog signals, sent from the instrumentation, such as sensors in the area 4- 20mA.
lOG WL505MA loggers have a wireless radio communications space of compatible base units of up to 150m (492ft).
Data can be transferred from a logger to a base unit and then automatically uploaded to the cloud storage or stored in a specific place. Data can also be checked on your PC monitor or on site with one of our compatible data collectors.
LOG WL505MA is ideal for capturing analog signals from different units of measurement in research and development and manufacturing. < / p>
the function for scaling conversion allows you to convert data to the device you want to view the software on PC or control of them in cloud storage.
Andet

Kabel

Montering

Måleområde

Strøm måling 4 - 20 mA. Impedans 100 Ω. Opløsning 10 μA
Battery for log-wlxxx series
in normal battery change Log-data not
Product code: LOG-LS14250
Physically in stock
4 other products in the same category: