16 x Voltage measurement +/- 10V 16bit, 2 x analog +/- 10V output, 16bit, 4 x digital I / O for USB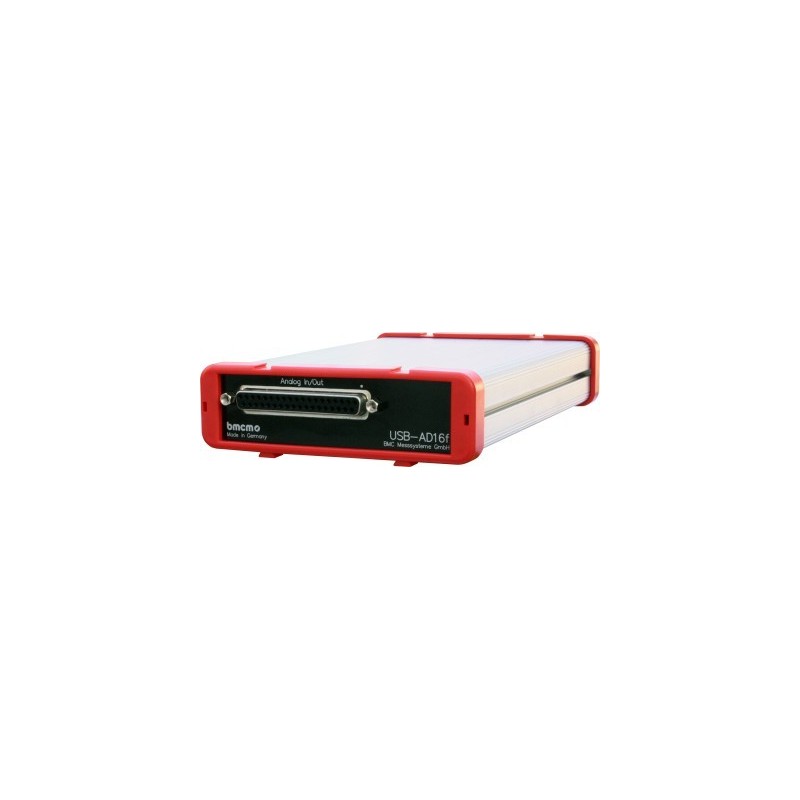  
Multi I / O module for measurement and with USB port
16 Analog inputs, +/- 10V, +/- 5V, +/- 2V, +/- 1V
16 bit resolution
frequency Up to 250kHz Total Samplings-Rate
2 Analog Exit +/- 10 Volt
4 Digital Entrance TTL / CMOS
4 Digital Outputs TTL / CMOS
1 Counter Input, 16 Bit
Voltage Variety from USB The port
Buy DAQ Software: NEXTVIEW
Dim: 167 x 113 x 30 mm
Measurement and control. Extremely powerful. Exactly measurement of input and get output signals with USB-AD16S16. High performance USB data arranged in aluminum house of high technical. Is especially suitable for dynamic applications.
250 kHz Total sampling speed so that even the smallest peaks of high frequency signals are registered. The measurement range is selected via software for each channel separately.
Galvanic isolation of the analog channels, then the DAQ system and the PC are perfectly protected.
Digital modes are recorded or set to 4 digital inputs and outputs each. Digital inputs are sampled time synchronously with the analog inputs. The extra counter inlet is galvanically isolated.
Plug Play.
widely supported: The data collection system can be used under Windows® XP / 7/8/10 as as well as under Mac OS X, free BSD and Linux.
the complete Software for installation and programming is included for free.
DAQ software can be purchased - NEXTVIEW®. Try for free. The software for data collection and analysis. A fully functional 14-day sample is included in delivery to directly test the functionality of USB-ad16f.
Digital I/O

4 TTL indgange og 4 TTL udgange

Hastighed

Op til 250.000 dataoverførsler per sekund samlet; deles mellem indgangene. Hastigheden er systemafhængig

Indgang

16 stk. "Single ended"

Indgangsimpedans

1 MΩ

Kabel

USB 2.0 og tidligere, 1 m kabel medfølger

Måleområde

±10 V

Nøjagtighed

±5 mV (Abs.)

Opløsning

16 bit

Software

Leveres med "Active-X" drivere til Windows XP, Win7 og Win8 samt demo­software, der beskriver brugen af "Active-X" driveren til Visual Basic, Delphi og C++. Software til "live" målinger medfølger

Stik

Analoge ind- og udgange via DB37 hunstik, digitale via DB15 hunstik

Strømforbrug

Typisk 100 mA - forsynes via USB porten

Udgange

1 stk.12 bit "Single ended"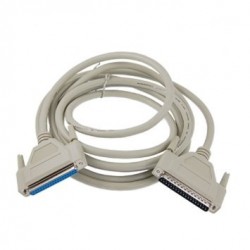 Forlængerkabel med DB37 han til DB37 hun stik 
AWG28
Guldbelagte stik
Product code: K-DB37M-F
Physically in stock
Terminal card with screw terminals
DB37 male / female cable of 1.8m included
For DIN rail mounting
103 x 85 x 50 mm (W x L)
Product code: TERM37+
Physically in stock
Software til produkter fra BMCRealtime visningEkportere data til videre behandlingSoftwaren findes i flere forskellige udgaver og prisklasser
Product code: NV-LITE
On the way in
4 other products in the same category: