2 inputs for Strain Gauge, 1 x excitation output, 1 x digital in, 4 x digital out, RS485 bus, Display.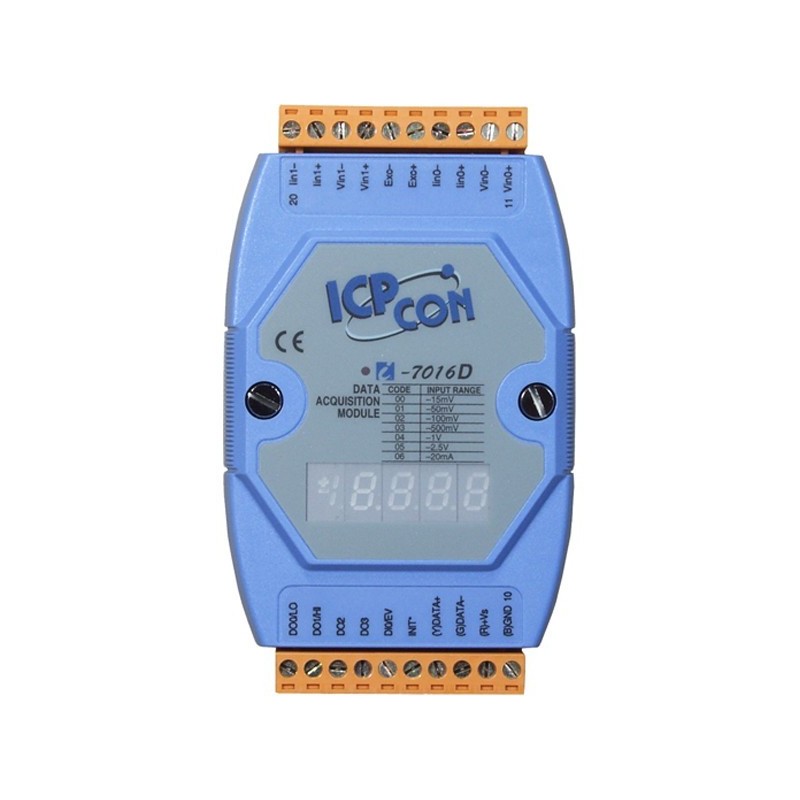  
RS485 Module for load cells
2 analog inputs for 4 wire load cell,
1 excitation Exit
1 Digital input
4 digital outputs
Supply: 10 - 30VDC
In the industrial environment, there are many examples where force is to be converted to a measurable electrical output.
In most cases, a strain gauge bar meter in a load cell is used. But the question is, how should we handle these electrical output measurements? In this situation, the M485-AD16DA12 ID certainly is the best choice. Not only can the module process data from a load cell or bar meter, it also has linear mapping that can be used to directly convert the resulting data to weight via a custom correspondent table. M485-AD16DA12 ID supports full-bridge voltage meters and provides 2 analog input channels, 1 excitation voltage output channel, 1 digital input channels and 4 digital output channels. The module has a programmable input range (± 15 mV, ± 50 mV, ± 100 mV, ± 500 mV, ± 1 V and ± 2.5 V), and each analog input channel can be configured individually. Excitation voltage output may be in the range 0 ~ +10 V with a driving efficiency of 40 mA. Digital output channels can also be set as high or low alarm outputs.
Forsyning

10 - 30 VDC, 2,2 W via klemrække

Indgangsimpedans

2 MΩ

Isolation

3000 VDC

Maks. hastighed

10 pr. sek.

Opløsning

16 bit, ±0,05 % præcision

Skærm

4½ ciffer display

Stabilitet

Nulpunktsdrift: ±0,6 µV/°C Drift af følsomhed: ±25 ppm/°C

Udgange

12 bit: 0-10 V 0,05 % af FS Drift af følsomhed: ±50 ppm/°C

Udgange

4 stk. "Open collector": 30 VDC, 30 mA
125 Ω Shunt resistance, 1 pc. pr. Channel
Product code: M485-MOD125
On the way in
4 other products in the same category: