10 x digital input, 10 x digital out - I / O controller via Ethernet or RS485, 9 - 24VDC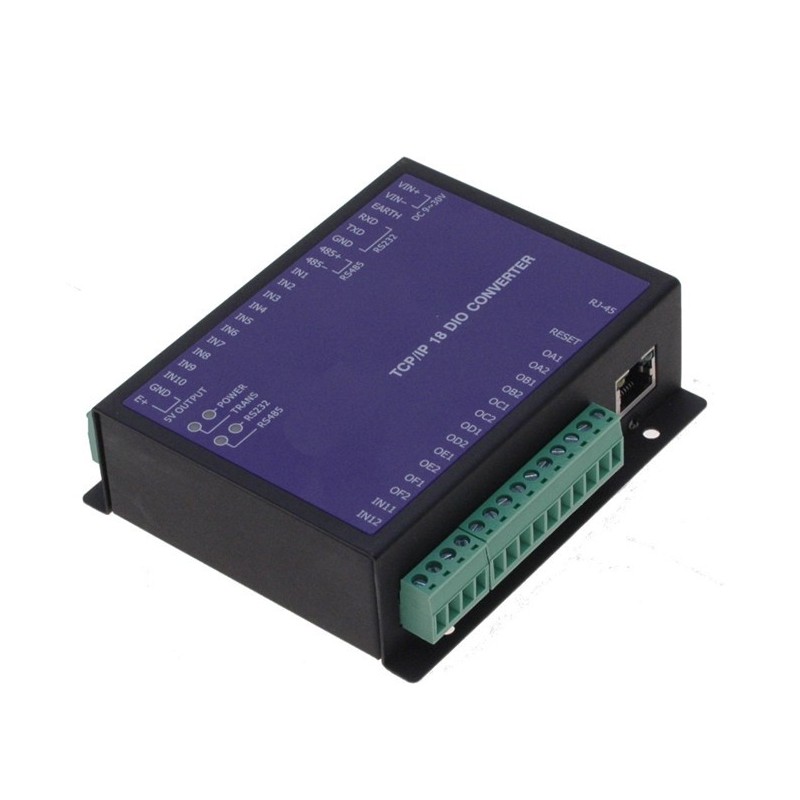  
Distributed I/O via Ethernet/RS485
Can be controlled via RS485 or Ethernet
10 x digital in 10 x relay out (mechanical relay)
9VDC ~ 24VDC supply voltage (power adapter included)
16bit / 100MHz CPU
256 KB ROM, 1 MB SDRAM
10 Digital Inputs And 10 Digital Outputs.
Monitor Digital Input: Panic Button, Temperature Sensor, Door Sensor,...etc.
Remote Control Outputs: Siren, Alarm, Light, Fan
Report E-map monitoring and email alert.
Master and Slave structure (Max 30 DI and 30 DO).
Alarm alert (screen alerts from events - unregistered user, door open too long).
Setup trigger events between terminals thru TCP/IP.
For Example:
(1) If the temperature in the server room is too high, triggers a security office's alarm and also a server room's air condition (outputs).
(2) If the humidity in a greenhouse is low, trigger a sprinkler system (outputs), air quality low can trigger a ventilation system (outputs).
CPU

16 bit CPU, 100 MHz

Dimensioner

135 x 115 x 35mm

Driftstemperatur

0-55°C

Ethernet

1 x 10/100 Mb/s - Auto-crossover detection

Forsyning

9 ~ 24VDC, 0,5 ~ 1A

Hukommelse

1 MB

Input

10 digitale inputs, Optocoupler isolation: 2500VDC, Voltage overload protection: 70VDC

Kabinet

Stålkabinet i format 30 x 81 x 103 mm. (H x B x D)

Output

10 digitale outputs, Optocoupler isolation: 2500VDC, Relay: 30VDC 1A

Porte

Tilslutning af RS232/485 via skrueterminal Hastigheder fra 1200 bps til 230 kbps

Protokol

TCP/IP, UDP, DHCP, HTTP, TELNET, ARP, ICMP, PPPoE, DDNS, SMTP

Skærm

Viser: Power, Netværk, RS485 status, IO status,

Stik

1 x RJ45 til Ethernet samt skrueterminaler

Weight

525g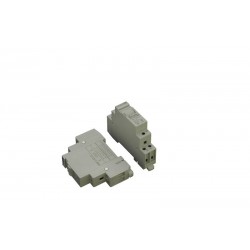 250 VAC relæ til DIN skinne
Product code: DIN-RELAY
On the way in
250 VAC klæberelæ til DIN skinne
Product code: DIN-RELAY-L
Physically in stock
4 other products in the same category: