Exact time on the server via network with compact GPS receiver. RJ45 port for network with NTP. RS232 port with time code
 
Atomic clock with time from GPS satellites
NTPv4 Stratum-1 GPS Network Time Server.
GPS accurate to 15 nanoseconds (GPS locked).
NTP accurate to 3 microseconds (GPS locked).
Synchronize more than 2 million clients with standard NTP polling frequency.
10/100 Mbit auto-sensing, auto-MDIX Ethernet port.
IPv4 and IPv6 internet protocols.
SNMP v3
Active GPS antenna included
30 meter coax cable included
Dimensions: 144 x 103 x 30 mm
Supply voltage: 7.5VDC / 1A
PSU included
ATOMUR-SAT-T uses a powerful Linux-based industrial processor module, which also has a very low power consumption. The device requires no fans, providing exceptional reliability.
The latest NTPv4 protocol is used by ATOMUR-SAT-T, which is backward compatible with previous versions of NTP. It can synchronize any NTP or SNTP compatible system including Windows, Linux, CCTV, DVR and network devices such as switches and routers. ATOMUR-SAT-T is unique and has the processing power to serve more than 2 million clients at standard NTP polling frequency.
Additional network protocols future-proof it by implementing both IPv4 and IPv6 protocols. The device also supports: HTTPS, HTTP, SSH, SCP, SNMP v1/v2c/v3, SFTP, FTP, DHCP, DHCPv6.
High Accuracy Timing - When locked to GPS signals, the ATOMUR-SAT-T GPS receiver can deliver timing pulses within 15 nanoseconds. NTP utilizes timing information from the receiver to synchronize within 3 microseconds of UTC.
Antenne

Aktiv GPS antenne med TNC

Dimensioner

144 x 103 x 30 mm

Forsyning

7,5VDC / 1A - PSU medfølger

Interface

RS232 til opsætning og seriel time code output

Netværk

10/100Mbit, RJ45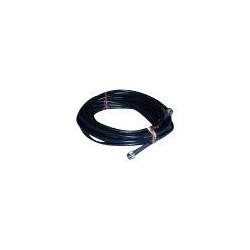 30 meter kabel til GPS antenne
Product code: K-ATOMUR+G
Physically in stock
4 other products in the same category: